Beauty Therapy at Deer Park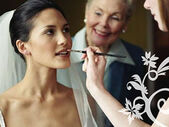 Wedding Make-Up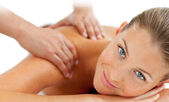 Massage & Treatments
Deer Park Beauty Salon
Do you feel that you owe yourself a nice bit of pampering? If so, then Lisa at the Deer Park Beauty Salon is the person to see. A sample of the treatments on offer, include:
Waxing from £6.00
File & polish nail £10.00
Eve Taylor treatments from £20.00
Massage from £20.00
Luxury Facial Package form £35.00
Wedding Make-Up £20.00
Call Lisa at the Beauty Salon 0798 0632 834 or deerparkbeauty@hotmail.com.
Deer Park Hair Salon
Need an extra- special "do" for that big occasion or just want to try a new look? Let Lynne at the Deer Park Hairdressing work magic with your locks.
Be it a simple wash and blow dry, a cut and style, or going a shade bolder with your colour,
just call Lynne at 01506 446677.
Click here to download Hair Salon Price List.pdf and Beauty Salon Price List.pdf Brochures