Golf at Deer Park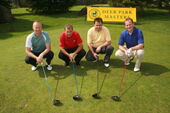 Masters at Deer Park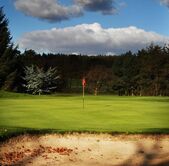 Deer Park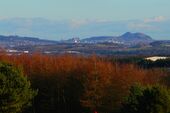 View of Edinburgh Castle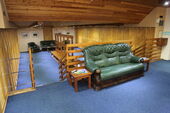 Locker Room
Deer Park has attracted some major tournaments over the years. The 1990, the Scottish Under 25 Professional Championship was won by future Open Champion, Paul Lawrie. Paul is a great fan of the course (see our Golf Video) and has been a frequent visitor over the years. Deer Park was also a regional qualifying site for the Open Championship.
In 2012, Deer Park had a unique honour bestowed upon it by the Scottish PGA. It was the only course in Scotland to host two Order of Merit Tournaments, as the Young Professionals Championship was held in May, followed by the Deer Park Masters in August.
The course measures 6,727yards from the championship tees, but five sets of tees means that the course can be set up to suit any level of golfer.
The course, itself, is one of two very distinctive nines. The front nine is relatively flat with a series of burns creating an interesting test. The back nine is totally different in character. Here, the course rises and falls with the undulating terrain. On the highest points, Edinburgh Castle is visible on a clear day.
So, if you are planning a golfing tour of Scotland or maybe just a short golf break, Deer Park is what golfing in Scotland is all about.
Since 2004, Deer Park has been the host for The Deer Park Masters, a Scottish PGA Tartan Tour Order of Merit event. The Masters is now one of the most popular events on the tour, loved by the professionals and amateurs, alike. The 2013 Masters is scheduled for August 6th and 7th.
In 2010, the inaugural Deer Park Mixed Classic was held. This is a triple 9 hole mixed event with a unique and interesting format. Nine holes are played as a Texas Scramble, the next nine holes is a Greensomes format and the final nine is Foursomes play. For 2013, the two person team can comprise either two men, two ladies or a man and a lady. Competiors enjoy a fulll Scotish breakfast and finish the day with a prize giving diner. However, for many, the hightlight of the day is undoubtedly the refreshing glass of Pimms between the last two rounds. The Deer Park Mixed Classic is very much a social event and a must for every golfer's diary. The Entry Fee is great value at £50 per two person team and includes the 27 holes of golf and all meals. Don't have a playing partner? No problem, we'll team you up with another player.
If you would like more information, why not call on 01506446688 and see what Deer Park can offer you?
Deer Park - West Lothian Golf at its best!