Squash Courts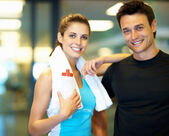 Squash Deer Park
Are you looking for some fast paced action? There's few better ways of keeping fit than a challenging game of squash.
Our two glassed- backed squash courts are enjoyed by a small but enthusiastic Squash Section. Whether you are new to the sport or a seasoned campaigner, you'll find a warm welcome from your fellow squash players at Deer Park.
Deer Park is affiliated with the Scottish Squash and Racketball Association, which organizes competitions throughout the year.
So…come on…get in the swing of things at Deer Park.
For further details call us on 01506446699